Mixed Martial Arts coming to the Valley
By Michael "Moe" Murphy
Clarke Times-Courier Sports Editor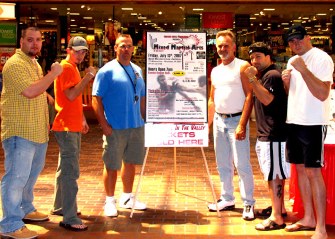 Left to Right Zach "Bad Boy" Roygol, Court "Lil Panther" Bridge, Lionel Royer, Claudio Buono, Angel "the Predator" Ortiz, and Jeremy "the Marine" Simms. Photo Michael "Moe" Murphy
WINCHESTER – Residents of the Northern Shenandoah Valley are about to get something that is a first in Virginia.
Amateur sanctioned Mixed Martial Arts makes its debut in Virginia on Friday, July 13 at 8:00PM as Squared Circle Promotions, Inc. from Inwood, WV will present an 11 card fight night at the Lee Jackson Best Western Ballroom in Winchester.
Veteran boxing promoters Lionel Royer and Claudia Buono, along with new partner Terry Hudson are presenting the first Mixed Martial Arts in the Valley, the first of its kind in Virginia.
"We will be flying in members of the International Sport Combat Federation." Royer said. "The fight will be fully sanctioned by the I.S.C.F. and their rules and regulations will apply, and all officials will be I.S.C.F. sanctioned."
The I.S.C.F., headquarted in California is the largest neutral sanctioning body of Mixed Martial Arts in North America. The I.S.C.F. along with the International Kickboxing Federation I.K.F. are the only two organizations sanctioned by the Virginia State Boxing Commission to sanction Mixed Martial Arts. The state boxing commission will issue the license.
Mixed Martial Arts fighting combines boxing, wrestling, jujitsu and other forms of martial arts. Wins can be obtained by knockouts, technical knockouts, decision or submission or tapping out. A various number of choke type holds are legal.
The I.S.C.F. does not allow for elbows to be used in their amateur fights as they do in Pro.
M.M.A. has become very popular over the years especially since Spike TV started the Ultimate Fighter Competition five years ago.
The card will feature 11 bouts all three rounds, with round times varying between two and four minutes per round depending on the pre arranged fight schedule.
"We are trying to match these fighters up as evenly as possible." Royer said. "We hope the fights will go the distance and give the fans all the excitement possible."
The main difference between amateur and pro in mixed martial arts is seen more in the team and individual aspect.
Amateur fighters tend to start with fight clubs and as they turn professional they may not stay with a club.
Four area clubs will send fighters to Friday's event.
Members of the Predator Fight Club from Winchester were on hand Sunday at Apple Blossom Mall to speak with the public and promote the sport of Mixed Martial Arts.
Berryville resident, Angel "the Predator" Ortiz, the co-founder of the Predator Fight Club will be training the fighters for Friday's fights and plans on fighting in September.
Ortiz is also a two year veteran of the Winchester Tigers semi pro football team that is currently playing their home games in Berryville. The former Marine has been involved in some kind of martial arts for fifteen years.
"This is going to be a great night for the Valley." Ortiz said. "Our guys are training very had for this night and I'm sure the other clubs are as well."
Another member, Jeremy "the Marine" Simms will be fighting in the light heavyweight division. Simms may be familiar to many Clarke residents as he is the current Marine Corp Recruiter in the Winchester area and has recruited several CCHS students.
"I have experience in jujitsu and other forms of martial arts." Simms said. "This will be my first sanctioned MMA fight. Our guys are very hungry and hope to make MMA in the Valley a regular thing."
Predator lightweight fighter Court "Lil Panther" Bridge and heavyweight Zach "Bad Boy" Roygol were also on hand and expressed their excitement about the upcoming bouts.
The other clubs have signed on for the card. Boyce's Martial Arts of Winchester will have Zach McBreen, and Kelcey Webster fighting out of their club.
Kevin Brooks and Luke Dawson will fight in an exhibition,
Cory Popanz and Jeremy Caper will be featured by the Red Dragon Martial Arts Center in Martinsburg, WV.
Winchester's Kore Kombat will also be represented with several combatants.
Royer and Buono are hoping this will turn into a regular thing with possibility of sanctioning Pro fights in the future.
"Our hearts are in boxing." Buono said. "The popularity of Mixed Martial Arts is taking over, and we feel this is the wave of the future in the promoting game."
The Marine Corp Color Guard will be present and performing, as well as local area Disc Jockey DJ Caliber.
---
Contact the reporter at moe@clarkecountysports.com