"Local Mixed Martial Arts fighter Robert Conner will be getting his shot at the professional level"
By B.J. Soto
Journal sports writer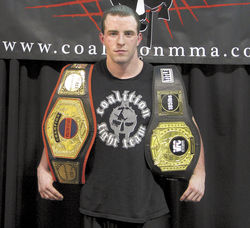 Robert Conner will make his professional Mixed Martial Arts debut during a competition April 25 in Norfolk, Va. (Journal photo by B.J. Soto)
INWOOD - Local Mixed Martial Arts (MMA) fighter Robert Conner will be getting his shot at the professional level during Cagefest 7 Xtreme: "All In" on April 25 in Norfolk, Va.
Conner will be fighting Phillip Estes, who is 1-1. As a middleweight in the amateur level, Conner was 8-5-1, but will drop down to the welterweight division for his professional career.
"The amateur level isn't about your record, it's about practice," Conner said.
The Martinsburg High School graduate wrestled since he was 4 years old and just wanted to continue doing what he loves. As a freshman, he wrestled in the 119-pound weight class and jumped to the 171 and 189 classes by his senior year.
Conner has been in the MMA discipline for about two years. Conner trains extensively at the Squared Circle Gym in Inwood.
"I live with a few of my teammates, so we work out a lot at home," Conner said. "When it's nice out, I normally run to the gym, which is about three miles, then I do my workouts from about 4-7."
Conner's twin brother, Chris, is also an MMA fighter professionally. Robert and Chris trained together since they were little, always competing and butting heads. The competitiveness just continued to grow, which at this level, is a must.
Conner's style is based mainly on the ground attack with Greco Roman and submission wrestling, but he also uses Muay Thai as his standup attack. Conner likes to compare himself style-wise to Matt Hughes, a nine-time world welterweight champ of the Ultimate Fighting Championship.
He believes that conditioning is the most important aspect to any MMA fighter.
"Without conditioning you can lose to an opponent who is worse because they are in better shape," Conner said.
Jeremy Carper and Lionell Royer, his coaches, help make him more of a rounded fighter, Conner thinks.
"They help me a lot with my standup attacks, but at the same time I help the team with the ground attacks," Conner said. "Jeremy has been doing Muay Thai forever and I've been wrestling forever, so we just feed off each other."
Conner hopes to join the UFC eventually, while still training at the Squared Circle, which offers programs for men and women 14 and up, as well as after-school programs for those 8 and older.
Conner looks forward to his competition with Estes and thinks he can handle his opponent.
"I don't think that it will make it past the first round," Conner said. "I'm going to take him down right away and win by submission."
With two MMA championships under his belt as an amateur, Conner looks to be a very promising star at the professional level.