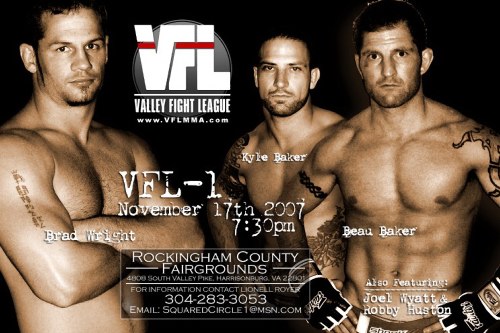 Fight Card:
Amateur MMA Results:
Amateur Bantamweight MMA
Dustin Honeycutt Vs Lewis Cassner
Both fighters immediately go to blows then Cassner goes to take down. Cassner dominates on ground, Honeycutt delivers good strikes in clinches and stand-up. Reversals both ways on the ground.
WINNER: Winner: Lewis Cassner by rear naked choke at 2:08 of Round 2
Amateur Middleweight MMA:
Robert Conner Vs Josh Guyer
Conner goes in for quick takedown, intense grappling on the ground, Conner working for position, Guyer scrambling to prevent submission. Conner work his mount then takes Guyers back.
Winner: Robert Conner by rear naked choke at :59 seconds of Round 1
Amateur Featherweight MMA:
Brandon Presnell Vs Nicholas Vecchione
Great match with both fighters doing stand up and grappling. Reversals both ways for each fighter on the ground. Intense grappling and stand-up. Vecchioni strikes hard during clinches. Presnell can't return from the break for the third round. Referee stops contest.
Winner: Nick Vecchioni by TKO, opponent unable to continue for the third round
Amateur Welterweight MMA:
Rick Tavares Vs Chris Conner
Tavares goes in for early takedown, intense grappling on the ground. Conner tries to escape the guard, Tavares pulls him into a Triangle for the submission.
Winner: Rick Tavares by triangle at 1:59 minutes of round 1
Amateur Lightweight MMA:
Tyler Moyer Vs Bryan Lewis
Great fight with both fighters trading blows and kicks during stand-up, each fighter goes for takedowns and reversals exchanged both ways. During 2nd round, Lewis shows signs of tiring, Moyer tries to capitalize with some success, Lewis struggles hard to maintain position to prevent submission. Middle of 3rd round, Lewis tries to escape guard and Moyer takes his back and submits him.
Winner: Tyler Moyer by rear naked choke at 1:48 minutes of Round 3
Amateur Welterweight MMA:
Jeremy Carper Vs Jason Ledford
Immediate flurry of punches and kicks. Both fighters game for a hard fight. During a clinch, fighters go to ground, Carper maneuvers to prevent submission, Ledford all over him looking for an opening, finally finds an open spot and submitting with a Guillotine.
Winner: Jason Ledford by guillotine submission at 2:50 minutes of Round 1
Amateur Lightweight MMA:
Cory Popanz Vs Chris Morris
Popanz comes out early and rains blows onto Morris, Morris does his best to swat them away and return the favor, but they come in hard and fast. Popanz lands several hard knees and strikes. Popanz wins with the KO.
Winner: Cory Popanz by KO at :52 seconds of Round 1
Amateur Heavyweight MMA:
John Brown Vs Christopher Stanton
Stanton comes out and immediately trades blows with Brown, Stanton lands several hard strikes to Brown. Brown covers up and is unable to defend. Referee stops contest due to strikes.
Winner: Christopher Stanton by TKO at :08 of round 1
Amateur Lightweight MMA:
Adam Prickett Vs Eric Ohene-Bekoe
Prikett and Ohene are well matched and go toe to toe in striking and kicking. Neither seeming to really dominate but Prikett always seems to be the more aggressive and come out ahead in the clashes. Ohene is game and does not let up. On the ground Prikett gains the advantage but in unable to submit Ohene. Both fighters go to the ground then escape to stand-up. Ohene seems to wait for openings and stalks Prikett. Prikett presses and is the aggressor. It goes to the Judges for decision.
Winner: Adam Prikett by Majority Decision, Judge 1: 28-28 Draw, Judge 2: 29-28 Red, Judge 3: 30-27 Red
Amateur Heavyweight MMA:
John Price Vs David McElreath Jr.
Both fighters come out swinging, trading blows, Price throws a few leg kicks. McElreath is a brawler and is tough, Price takes him down and they go at it on the ground trading blows and Price working for the submission. Price positions to his opponents back and locks onto a rear naked choke and McElreath resists for what seems like forever, struggling to maintain position to prevent the rear naked choke from working. Price finally puts on more pressure and wins the submission in the last two seconds of the first round.
Winner: Jon Price by rear naked choke at 2:58 minutes of Round 1
Amateur Lightweight MMA:
Arthur Powell Vs Nick Silvestri
A great bout of evenly matched fighters, both fighters going stand-up and grappling hard and fast with neither seeming to gain much over the other. In the second round Powell seems to gain control but can't submit Silvestri. Silvestri is game and continues to go toe to toe. In the middle of the third round Silvestri gets tired and can't protect himself. Powell rains blows and the Referee stops the contest due to strikes.
Winner: Arthur Powell by TKO at 1:49 of Round 3
Amateur Bantamweight MMA:
Mike Custodio Vs Erek Strusinski
Cusodio and Stuinski go toe to toe for the entire three rounds. Neither fighter letting up and coming back when the other seems to gain some advantage. Custodio seems to be the better striker and grappler during the stand-up and clinches as well as maintaining an advantage position on the ground. Stuinski is no slouch, always working his positions and his escapes and body techniques in the clinches. Both are strong fighters with Struinski making Custodio work for everything he gets.
Winner: Mike Custodio - Unanimous Decision, Judge 1: 30-27 Red, Judge 2: 30-27 Red, Judge 3: 30-28 Red
Amateur Super Heavyweight MMA:
Stephen Hamilton Vs Thomas Naylor
Fighters touched gloves, and both swung in a short flurry then clinched, Naylor with the under arm bear hug, and Hamilton with a headlock. Naylor picked Hamilton up and body slammed him and added three quick punches to the head before the referee stopped the bout.
Winner: Thomas Naylor by KO at :08 seconds of Round 1
Professional MMA - 4 Bouts: Results coming soon
| | | |
| --- | --- | --- |
| Joel Wyatt | vs | Robby Huston |
| Beau Baker | vs | Erik Hudlund |
| Kyle Baker | vs | Alvin Decker |
| Brad Wright | vs | Mike Bogner |

Professional Boxing - 2 Bouts: Results coming soon
| | | |
| --- | --- | --- |
| Bruce Frank | vs | Ken Cary |
| George Rivera | vs | Nathan Ward |